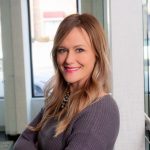 Anna Garnaas-Halvorson
Realtor®
Meet Anna...
Anna is a trusted advisor who provides first-class service custom-tailored to her clients' needs. Her clients benefit from her hard work ethic, her attention to detail, and her extensive knowledge of the real estate market in the St. Paul/Minneapolis Area. Anna takes an often high stress situation and makes it both fun and comfortable.
Anna grew up in the Macalestar-Groveland neighborhood of St. Paul. She attended St. Paul Public schools, went on to Luther College, and then earned a Masters Degree in Montessori Education at St. Catherine University. After 14 years of teaching elementary school children in St. Paul, Anna decided to pursue her passion for real estate. She has found both vocations to be very similar in focusing on relationships, education, patience, and respecting people's unique situations while providing consistent and caring communication.
Anna lives in St. Paul with her high school aged daughter, two dogs and a cat. Little grass is left in her well loved perennial garden.